International cooperation
DOET is the industry association for frontrunners in the field of charging infrastructure, light electric vehicles, smart grids
and electric cars.
Our mission is 100 percent electric mobility using 100 percent sustainable energy. We are convinced these innovations have a
vast environmental and commercial potential.
In cooperation with knowledge institutes, NGOs and Governments we bring E-mobility to a higher level. 
DOET wants to expand and exchange its knowledge and network in order to expand E-mobility accross the globe. Is your organisation interested in joining our mission? Mail us via info@doetdoet.nl.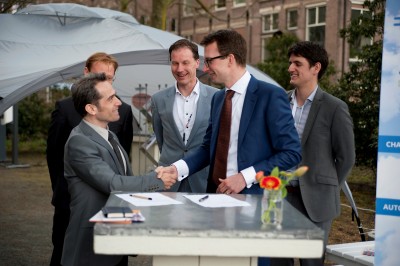 Verdienpotentieel voor BV Nederland
Onderzoek naar het verdienpotentieel van de Nederlandse EV-sector door DOET en RvO heeft uitgewezen dat het buitenland de grootste groeimogelijkheden laat zien. Om deze reden is de inzet van DOET mede gericht op het creëren van internationale (samenwerkings)mogelijkheden voor haar leden. Actieve samenwerkingen zijn reeds opgezet met Duitsland, de VS en Zweden.
Het creëren van internationale (samenwerkings-) mogelijkheden vindt plaats door:
a. vertegenwoordiging DOET in AVERE (Brussel)
b. het (mede-) initiëren internationale projecten, zoals East Coast Electric                                 
c. het creëren van mogelijkheden voor (goedkope) deelname studiereizen
d. het creëren van mogelijkheden voor (goedkope) deelname internationale beurzen, zoals de Hannover Messe
e. promotie van Nederlandse EV kennis